24. Do Do Song
S.Rhatigan/J.F Morrison © 1998
"I've asked all your teachers and none of them want you in their class" Ms O'Kelly gleefully,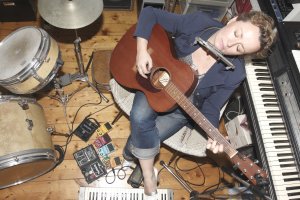 squawked into my face in the corridor outside the staff room, loudly enough for the bemused 1st years to hear as they swarmed from their classrooms at the end of the school day, adding to the hurt and humiliation.  It was the culmination of 13 years in the convent school I'd endured from the age of 4.  My customary insolent attitude all but deserted me as I attempted to eyeball her through water filled eyes. The agonising strain on my larynx, which gallantly held back the sobs, prevented me from releasing the 2 words stuck there.  "Fuck You!"
It's hard to break the rules and yet since I was walking and talking it's been hard for me not to.  The older I get the harder it gets.  Most of the time to be honest I don't realise I'm doing it.  Sometimes it's a misplaced joke or un-witty comment that goes awry but at the time is compelled to be out, regardless of the rules of etiquette and such, which have always been a mystery to me.  Sometimes my indiscretions are very knowing indeed, as was often the case during my incarceration in Manor House.  What crime did I commit to incur the verbal stoning described above? The worst of all crimes.  Blasphemy!
It was 10 minutes to release time when some zealot decided the 6th years should congregate in the chapel to say The Rosary.  Not one or two decades, but all 10, which even on a good day took 20-30 minutes minimum.  It was torturous.  Then it struck me, since I happened to be sitting in the front row with the head girls who were leading the prayers perhaps I should employ my not inconsiderable vocal abilities in the task of expediting matters as promptly as possible.  So off I went at volume like Red Rum off the blocks "Hail Mary full of grace theLordiswithyoublessedareyouamongwomennnn….".  At first most of my fellow students gamely kept up but by the time we got to the Glory Be the incoherent babble had degenerated into hysterics and I was hauled out, hung drawn and quartered.
Fair dues I hear you cry, I certainly did deserve some kind of punishment, but what that woman decided to do was, in my case anyway, the most punitive strike possible. Of course it should be obvious to any observer of the human condition and more particularly to individuals charged with the care of young people that to tap into a persons fear of being disliked, unloved, unwanted, a fear which for me was embossed in my conscious self, to claim to have confirmation of that fact so emphatically was damaging and cruel.  But of course that was the intention, the rule that particular bully willingly broke.
Breaking the rules of music, that's another matter.  Is it knowing or unknowing?  Is it an attempt to be liked or listened to or a genuine urge to find something new, different.  It's all of the above.  I'm an untrained musician, the handful of lessons I had literally went in one ear and out the other.  When I'm writing I let my inherent melodic instincts take the wheel, to at times predictable results, not necessarily a problem.  But sometimes the tunes that come out veer off the beaten track. Incidental unexpected key changes pop up, a 2/4 bar where there oughtn't be one or hey what the heck a pop song in 5/4 try tapping your foot to that one!
'Do Do What You Want' is not breaking any rules as such, it's actually quite a sweet tune with rather flippant lyrics about breaking the rules.  However the process of subverting the whole thing in distortion and noise was quite accidental. We were battling disintegrating equipment constantly.  Only 7 of the 8 tracks on the Fostex R8 worked, the heads on others having long since worn down with wear and tear and the inadvisable application of nail varnish remover for use as head cleaner didn't help. My guitar amp has a lovely sound when the valves have time to warm up but there is a point where it all becomes too much for the old girl and a kind of low end hum starts swelling from it's bowels causing any frequencies below 2K to vibrate in a not altogether pleasant way.
As the process of recording Do Do was underway it seemed to make sense to embrace the noise and not fight it, with what I thought were quite satisfactory results.  Conscious or unconscious or self conscious you decide.  Whatever, rules are made to be broken even if hearts get broken on the way.
Suzanne Rhatigan… Vocals, Guitar, Casio…
John Morrison Bass…
Paul Murphy Drums…